Additional Web Examples
Resources for Older Adult Living (ROAL)
Design and Custom CMS
2009

The Neighborhood Interfaith Movement, a community center in the Germantown area of Philadelphia, tasked gdloft to develop a site for their ROAL (Resources for Older Adult Living) service, a support center for the senior community and their caregivers. Previously, they maintained a 97 page PDF "phone book" to keep track of available resources, and hoped to translate this into an easily searchable and update-able website.
The site was designed with focus on the Directory, allowing a user to approach their search from many angles, including category, keywords, location, and basic alphabetical listings. Care was taken to develop the front end and CMS concurrently to tailor both the database and the user's experience with the searchable dirrectory. The resulting site provides a quick reference for the community and the staff fielding phone calls at ROAL.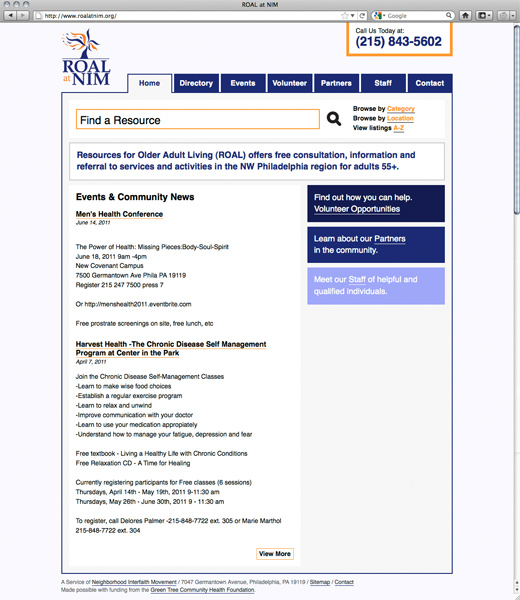 Philadelphia Photo Arts Center
Design and CMS integration
2009
Soon after completing the identity system and a placeholder homepage, gdloft was asked to develop the full site for PPAC allowing the organization to quickly reach the online art community. With the brand still in it's infancy, care was taken when developing the site to maintain visual consistency as it was to become the first long-standing piece to represent PPAC.
Responsibilities included all stages of the site's development, from concept and wireframe, design consultation, CSS templating and CMS integration.
Blue Plate Minds
Design, Photography

Website designed for Blue Plate, a Philadelphia based creative staffing company. Split into two reciprocal halves, the site mirrors their practice: finding amazing jobs for creative individuals and recruiting amazing creative talent for companies in need.

UNIQLO CSR Homepage
Design, Planning
2014